In 1988, Microsoft released Windows 2.1. George HW Bush beat out Michael Dukakis for the presidency. 1988 was the year of Rainman, Coming to America, Die Hard, Beetlejuice, and A Fish Called Wanda. The Redskins won Super Bowl XXII and Bobby McFerrin told us, "Don't Worry, Be Happy." This was a special year for many reasons, but more-so to us because it's also when Debi Smiley came to work for Wauna Credit Union in Clatskanie, OR.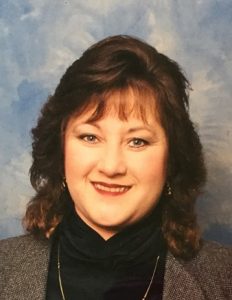 "Clatskanie" comes from the Native American word, Tlatskani, which was given to a point in the Nehalem River, reached via the Columbia by way of the Clatskanie River…or so the story goes.
Many of Clatskanie's 1,800 residents are of Nordic heritage, which includes Debi's family, who immigrated to Clatskanie from Finland. Debi is a 4th generation Quincy-area resident (just outside of Clatskanie).
And today we celebrate 30 years with Debi in our ranks. She's done it all, from teller to chief. So, with a few questions, let's take a deeper into who Debi is, who her heroes are, and how we can grow to be as successful as she.
First, the pedigree information that makes you YOU:
Husband, Greg (together 20 years, married 18 years this July)
Daughter, Liz (Elizabeth, but goes by 'Liz')
Son-in-law, Chris Cowen, Oregon State Police Officer
Grandson – Brayden, 14 and step-granddaughter, Alexa who is 11
1 cat, PV (piss & vinegar) – and we recently were adopted by another cat – 'Kitty Girl' is what I have been calling her
Oldest of 4 – two sisters and one brother)
There is no question you have learned many lessons, had thousands of great ideas, and made countless friends in your time here with Wauna Credit Union. Through everything you have experienced, what is one thing you have come to truly love about the Credit Union?
I still truly love that we continue to be people helping people. After 30 years, that mission remains the same, solid force that it was when the credit union started.  This is why I have continued to work hard to do what 'I' can to serve the members of the credit union and community in as many capacities as doable.
As Chief Marketing Officer, you are constantly coming up with  new and creative ways to showcase Wauna Credit Union. What is one piece of marketing advice you would give to new businesses that are just getting started in the area?
Join the Chamber, Kiwanais, Turning Point, Keep it Local, etc.  You learn a lot about the community you are serving. This allows you to market your business as well as evolve it to meeting the needs of the residents you serve.
A lot of people look up to you here at Wauna. But is there someone you look up to? Do you have a role model and if so who is it and why?
I have had a number of role models throughout my years. They have come in the form of sports coaches, teachers, supervisors, etc.  Each of them taught me life lessons, provided growth, and guided me to a better me. It is difficult to choose only one. Though the one I served under the longest was retired CEO Eileen Cheuvront. 
Under her leadership, I learned to "stay focused, work hard, and have fun". That was her motto and she shared it often. Eileen led by example. She was a compassionate leader that believed in the credit union, what we stood for and the high quality of service we were to render. She was a caring and supportive leader and I feel privileged to have worked under her leadership and guidance.
You are already pretty super, but if you could have one superpower, what would it be and why?
I would like to have Super Speed to get things done quicker so I can have more family time and healing Power to help those who desperately need it.
There you have it.
Wauna Credit Union has waxed and waned in many different directions since its charter way back in 1967. But while our look and our products and services may change, our values and beliefs will not. Because it is an undying commitment to our members that sets us apart from other financial institutions. This is the eternal flame that keeps us bright. And it is employees like Debi Smiley that keep that fire burning.
Thank you for 30 years, Debi and we look forward to many more to come!