Hey Kids! April is Credit Union Youth Month!
It began many years ago, as merely  Credit Union Youth Day, then it grew into Credit Union Youth Week, and last year the Credit Union National Association (CUNA) decided Credit Union Youth deserved an entire month!
WOO HOO! Credit Union Youth Month!!!
All month check this blog and your favorite social media outlet for savings tips & info for a better financial education – from allowance plans, and money making ideas for kids, to info about college funds.
Coloring Contest:
Our younger members are welcome to get in on the coloring contest – prizes will be awarded! Pick your picture, print it off at home, or pick one up at any branch!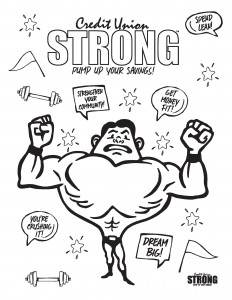 Know a kid who needs an account?
All new Jump Start Club members (Ages 0-17) who joined Wauna CU during the month of April will be entered to win $$$, and we'll deposit it right in your shiny new account! Plus, Jump Start Club accounts earn a higher rate of interest on your first $500 balance than any other saving account, AND all Jump Start Club members get a cool piggy bank when they open their account!
Jump Start Club – Account Information:  https://waunafcu.org/accounts/youth.shtml
College Scholarship Info:
High School Seniors – April 15th is the deadline for our annual Scholarships!
Apply Today: https://waunafcu.org/annual-scholarship.shtml
College Savings Plans:
Wauna Credit Union can start a Coverdell Education Savings Account or Coverdell ESA, also known as a 529 College Savings IRA, and our knowledgeable staff can help you easily set it up. College saving is less daunting if you start early.
Learn More: https://waunafcu.org/accounts/youth.shtml