Wauna Credit Union is growing fast (if you want to join us check out our careers page). The main reason for that is the great service we provide our members. The reason for that great service is our amazing employees. We caught up with a couple who are having their anniversary this month.
McKenzie Wilson – 5 Years
What is your current position?
I am a Real Estate Loan Officer in the Warrenton Branch. I assist members with purchases, refinances and second mortgages, and work with local realtors to help their clients get financing. I love being part of the home-buying process, and I love being part of Wauna Credit Union. I was an intern here right after high school and coming back after working at another financial institution for a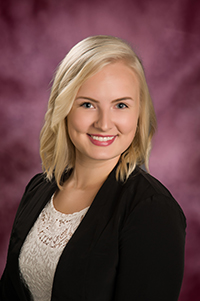 couple of years was such a great decision. Whether somebody is getting their first house, their fifth, or taking advantage of our great HELOC special to add the master bedroom they've always wanted, I get to be part of our members realizing their dreams.
What is your favorite WCU memory?
I don't have one specific favorite memory but I love helping members build their financial well-being as well as helping people purchase their new homes is always such a great feeling. They always say if you love what you do you never work a day in your life, and I really feel like that's true. In addition to working with our members, I've had so much fun with all my coworkers (who are also members). We all like to have fun while helping people out. No matter if I'm talking to people in the Warrenton branch or the other members of the mortgage team who are spread out across Columbia, Clatsop and Western Washington Counties in Oregon, and our new office in Pacific County Washington I'm sure to laugh a bunch during the day.
What is something you like to do when you're not at work?
When I'm not at work I love spending time with my husband Vince and our three dogs, Nitro, Torq and Kona. I love anything outdoors…. camping, hunting, fishing and riding our quads and side by side. We recently purchased our first home so anything that has to do with making it ours is a huge passion of mine. I grew up in Knappa, so I knew I would always live here, but actually buying a house makes me feel even more like part of the community.
Ashleigh Sibley – 1 Year
What is your current position?
I am a Communication Center Consultant. My job is to assist members with a variety of matters and filter out as much as possible from going through the branch directly. My duties are as basic as balance inquires and as complex as
technology troubleshooting.
What is your favorite WCU memory?
I have particularly enjoyed embracing the team and family spirit of Wauna over the last year. When I reach out to any branch I am greeted consistently with effective communication, integrity, and respect from employees. Those characteristics inspire me to return the positive feedback to our members.
What is something you like to do when you're not at work?
Outside of Wauna I enjoy spending time with my husband, our two children, seeking adventure and making memories.
Others
Jeff Parker – 11 years
Heather Dixson – 4 years
Marci Szlavich – 1 year
Jon Rimer – 1 year