Important Information About Shared Branching
Effective June 30, 2020, Wauna Credit Union is longer participating in CO-OP's Shared Branching Network. Wauna Credit Union continues to maintain membership in the CO-OP ATM Network, which allows surcharge free withdrawals and deposits (where accepted) at over 35,000 locations nationwide.
Additionally, virtually every transaction done through Shared Branching can easily be completed via our U-Banking online and mobile banking tools, which may be accessed at waunafcu.org.
And, of course, you may always give us a call at 800-773-3236 if you need assistance accessing your money. We are here to help.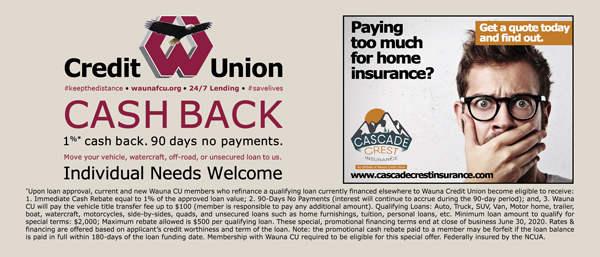 Cash Back
1%* cash back, 90-days no payments
Move your vehicle, watercraft, off-road, or unsecured loan to us
Individual Needs Welcome
#Keepthedistance, waunafcu.org, 24.7 Lending, #savelives

*Upon loan approval, current and new Wauna CU members who refinance a qualifying loan currently financed elsewhere to Wauna Credit Union become eligible to receive: 1. Immediate Cash Rebate equal to 1% of the approved loan value; 2. 90-Days No Payments (interest will continue to accrue during the 90-day period); and, 3. Wauna CU will pay the vehicle title transfer fee up to $100 (member is responsible to pay any additional amount). Qualifying Loans: Auto, Truck, SUV, Van, Motor home, trailer, boat, watercraft, motorcycles, side-by-sides, quads, and unsecured loans such as home furnishings, tuition, personal loans, etc. Minimum loan amount to qualify for special terms: $2,000; Maximum rebate allowed is $500 per qualifying loan. These special, promotional financing terms end at close of business June 30, 2020. Rates & financing are offered based on applicant's credit worthiness and term of the loan. Note: the promotional cash rebate paid to a member may be forfeit if the loan balance is paid in full within 180-days of the loan funding date. Membership with Wauna CU required to be eligible for this special offer. Federally insured by the NCUA.
Cascade Crest Insurance
Paying too much for car insurance?
Get a quote today and find out.
An affiliate of Wauna Credit Union
www.cascadecrestinsurance.com