Mobile Deposit Capture
Deposit checks with the camera on your phone
There are new federal regulations regarding remote deposit. Please read the guide below.

Making a deposit to your account can happen almost anywhere, and at any time. If you have an iPhone or an Android you are now able to deposit checks right from your phone, simply by scanning the front and back of the check using our Mobile App. Our encrypted system is secure, and the process is fast, easy and accurate.
We Make It Easy:
Effective July 1, 2018 all checks submitted via remote deposit must include "For mobile deposit only at Wauna Credit Union" in the endorsement area of the check. Due to an amendment to "Regulation CC" passed by the Federal Reserve.
All checks deposited through U-Banking must contain this phrase or they may be rejected.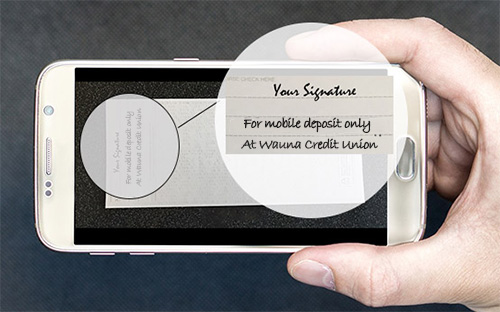 After Depositing:
Items submitted are reviewed for accuracy before posting to your account.
Your funds will most often be available within 2-business days. Longer holds may apply.
Write "deposited" across the front of the check after depositing it.
It's a good idea to keep your Mobile Capture deposited checks where you keep your monthly statements.
Save your check for 90 days.