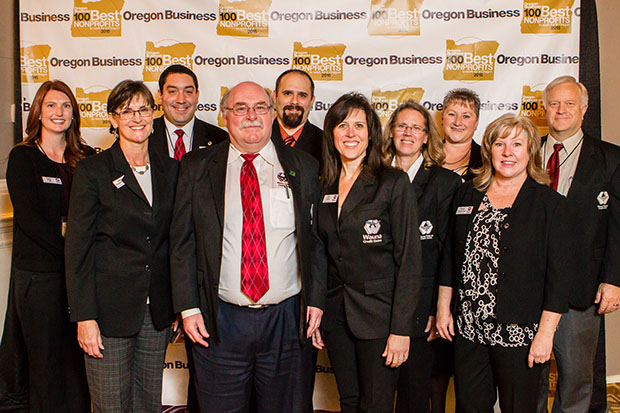 Wauna Credit Union has been recognized by Oregon Business Magazine as one of the 100 Best Nonprofits To Work For in Oregon. This is the Oregon Business Magazine's 7th Annual Top 100 List, which analyzed employee survey data compiled earlier this year from over 5,000 employees throughout Oregon.
"We are thrilled by this wonderful recognition," reports Sharon Borgardt, Chief Human Resources Officer for Wauna CU, "especially since the ranking is based on a survey comparing our employees' level of pride and satisfaction to those of other similar employers." Wauna Credit Union compared especially favorable to its peers in the categories of Management & Communication, Benefits and Compensation, Sustainable Practices, and Career Development & Learning.
"Much of the success of our organization is based on the amazing service our staff provides to over 20,000 local, member-owners," says Robert Blumberg, CEO. "As an employer, we truly value our employees as the most important assets of our organization. We strive to provide a work environment that is positive, rewarding, healthy, and fun! The enthusiasm of our employees is conveyed each day through helpful and courteous service to our member-owners."
Wauna CU has earned recognition as a Top 100 Best Green Workplace in Oregon for several years due to its commitment to sustainable practices.