Mysterious postcards are showing up in mailboxes all over the country and they'vestarted hitting home. This "time-sensitive" matter has many of us scratching our heads and saying, "huh?" Well, guess what? They're 100%, for sure, mortgage scams.
So, what the heck are they?
Let's address the elephant in the room and put to rest that these did NOT come from Wauna Credit Union — in fact, they did not originate from any financial institution. Recipients are urged to contact a toll-free number (after doing some digging, these postcards have listed 855-901-9227, 800-230-8750, 888-405-0963, and 855-549-212) regarding a recently closed WCU mortgage.
Where are they coming from?
Whether or not you have indeed recently closed on a WCU mortgage (congratulations if you have!) companies from all over the world have the ability to purchase your information if it has been publicly listed (sometimes even if it hasn't been!) But your first giveaway should be that the Mortgage ID number provided is bogus.
Often times, scammers will pull what's called the "phantom help" maneuver, where they'll encourage you to reduce or even stop your mortgage payments while they work to lessen your costs (for a moderate fee, of course). Unfortunately, by the time you realize you're being taken advantage of, the phantom helper is long gone.
If you look reeeeeeally closely in the bottom right-hand corner of the examples we've provided, you'll see a "All information provided by H.W.C." and a "Not affiliated with…" disclosure. Problem is you can grow old searching for information about H.W.C. and come back with nothing solid. We've also seen loandepot.com, Heritage Warranty Company, and Mortgage Protection Services, only none of these are legitimate businesses.
Conduct a quick online search for "Mortgage Protection Services" and you'll find they have an 'F' rating with Better Business Bureau, hundreds of thousands of complaints on Ripoff Report, and even have Cease and Desist orders from several states, including Illinois and Massachusetts.
We called the number!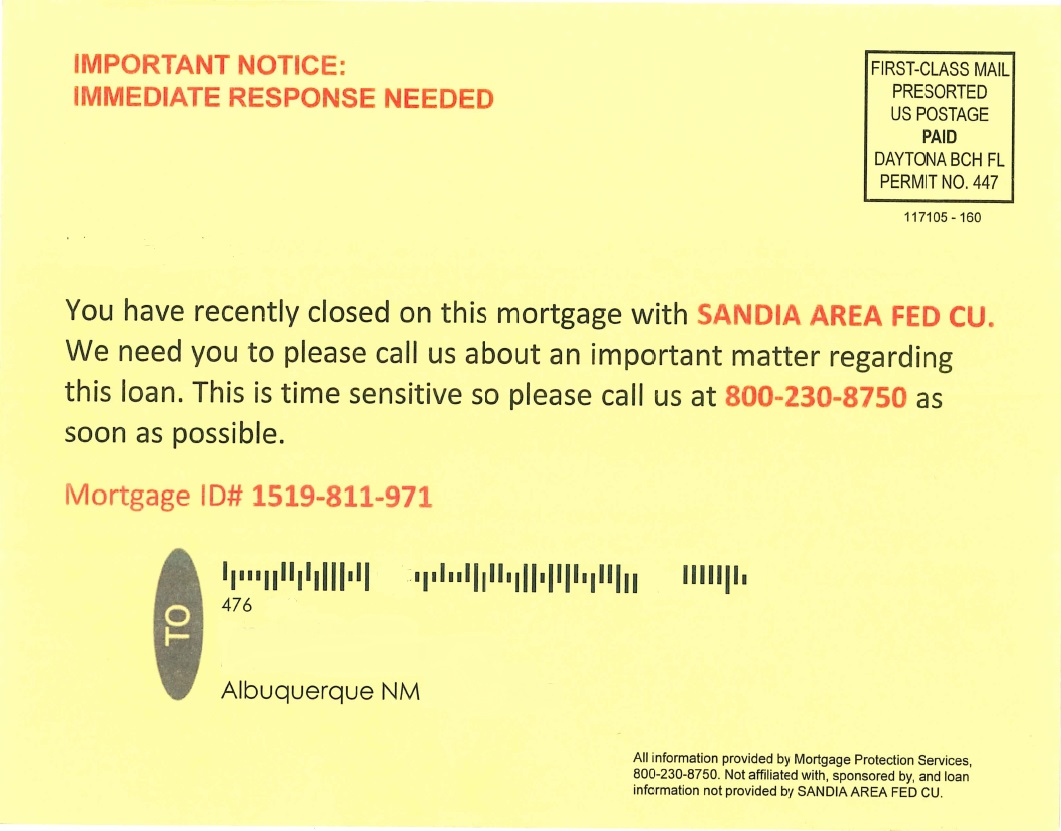 Darn right we called the number. In fact, we tried all the numbers we were able to find. Some connect to a live person, others are recordings, and one dialed directly to an automated system. Regardless of which number, we were eventually probed for personal information. Funny enough, these fraudsters refuse to give out any information about themselves, or even the actual company they are working with.
To be clear: Wauna Credit Union will NEVER ask for your social security number, passwords, or other sensitive information via postcard or over the phone.
So, how do I protect myself against these postcards?
It never feels good to be the target of a scam, but unfortunately it happens to us all. Should one of these end up in your mailbox, recycle it. Do not call the number. Do not play their games. Toss it and forget it. Remember, Wauna Credit Union will not send you notifications like this. If you are ever uncertain, contact us right away.
Onto protecting you from the next scam!