There's spam, phishing, skimming, advanced fee, 419 Fraud, redemption fraud, and so much more. It can seem overwhelming to stay on top of. Wauna Credit Union does a lot behind the scenes to help make our financial platforms as secure as possible with technology like VISA 3-D Secure, and two-factor authentication, as well as continual staff education and awareness. We've provided tips on how to help keep your information, and your money, safe, but we're always looking for new opportunities to help.
Recently we were alerted to a series of threatening emails one of our members received claiming to be from WCU. Luckily the member contacted a branch before providing information. We want to provide you a glimpse at what one of these scams actually looks like.
As you can see, the scammer did everything they could to get the member to make a quick decision. The top thing you can do when faced with any request for information, is to contact the credit union, either by calling our Virtual Branch at 1-800-773-3236, contacting us via our online chat or by visiting the nearest branch. If there's an issue with your account, the person you contact will know about it, and be able to help.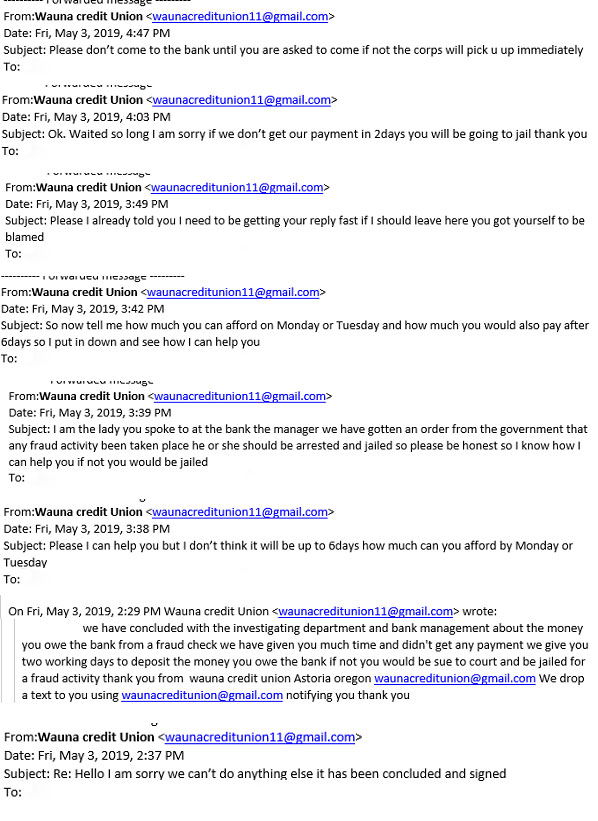 What to Look For
Non-standard from addresses; Anything that comes from the credit union will come from waunafcu.org. You can see this email actually comes from a Gmail account. Sometimes scammers will get tricky and try to spoof company's names, for example waumafcu.org or waunafuc.org. Other times the company name is correct, but the actual domain, that's the part after the @ symbol, is misleading, for example waunafcu.creditunion.org.
Threats; The scammer in this example relied heavily on the fear of going to jail. Wauna Credit Union will never threaten you. Our job is to help you, especially if you've fallen behind in your payments. In general, most reputable companies will always be respectful of you as a person, and threats of jail time are completely unfounded.
Overly long and changing subject lines; Scammers don't want you thinking about what they say, and that includes doing everything to get you to avoid opening the email.
Grammar and punctuation errors; This series of emails is full of them. From not capitalizing the 'c' in Wauna Credit Union, to improper verb and noun agreement and simple misspellings, you can tell that our member was one of 100 the scammer was trying to fool.
Rushing you into action; Some of these emails came a minute or two after the previous one. The scammer claimed an initial payment must be made within days. All these actions were done to keep the member from evaluating what was actually happening.
Hopefully, seeing one of these scams in action will help you better recognize one if it comes your way.